Writer's Block
Stephen Buckler (1998)
A somewhat decrepit writer sits at a desk composing his text in an equally decrepit room, suspended in a black and oppressive void. The composition is interrupted, but the letter is at last completed and gingerly slipped through a crack in the floor, to join the hundreds of identical letters already decaying in a mountain beneath the room.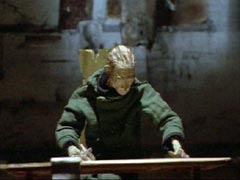 visit the red leader site to watch film
A dark Kafkaesque nightmare, this short film explores the violent imagery and visceral textures of puppet animation, a homage to film makers such as Svankmejer, Stareovitz, The Brothers Quay and David Lynch.
Writer's Block was first screened at The Royal Society of Arts, London, 22 July 1998.
Stephen Buckler
(music for animation) performed by mallika & mcqueen and ian vine.