white river sand (2002)
shira-kawa-suna - literally 'white river sand' - is the material used in karesansui, the highly formalised dry landscape gardens found in Japan and associated with Zen Buddhism. Unlike beach sand, the granules are not rounded or fine, but coarse, like crushed gravel. This allows the material to be raked into intricate patterns.
I have not made a literal transcription of these gardens, rather the piece is informed by their elements: raked sand in a variety of patterns; the careful placing of rocks, in this case musical objects; the granular detail of the sand itself.
white river sand was first performed by Kokoro, 11 December 2002, Lighthouse, Poole, conducted by André de Ridder, to whom the work is dedicated.
instrumentation:
flute, oboe, clarinet, bassoon, horn, trumpet, trombone, 2 violins, viola, violoncello, contrabass
[1.1.1.1 - 1.1.1.0 - 1.1.1.1.1]
duration: 10 minutes ~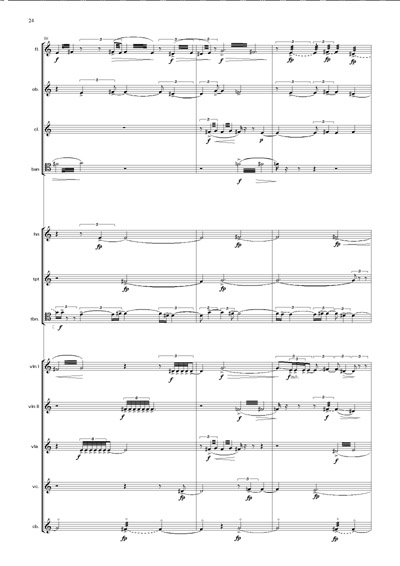 [page 24, bars 96-98]