unique pieces (2012-)
unique pieces (2012-) is a projected series of works for various instruments. Each unique piece is made as a one-off single-sided vinyl record. This will be the only copy, a unique piece in an age of infinite reproduction.
Recently I have written a series of pieces that are concerned in one way or another with the presentation of unique, and yet similar, events or objects. For example, in fifty objects (2007, for ensemble) and individual objects (2009, for orchestra), I made a sequence of unique musical objects that are closely related; forty objects (2007, for 40 electric guitars) has 40 independent parts; and in over 5000 individual works (2007, for piano) a single performance, or individual work, is one of 5040 versions of the piece.
A unique piece is made using a set of components, or musical objects from a pool of components. Once the components for a particular unique piece have been selected, the piece is newly composed using those components. Each unique piece is recorded afresh; while there may be similar material in other unique pieces, the material is never the same. After a predetermined number of unique pieces have been made using the pool of components, the components are discarded; the mould is broken. Subsequent unique pieces will be made using a new set of moulds.
unique pieces
unique pieces

(2012-)

various durations

instrumentation variable
each unique piece is one vinyl single (single-sided), signed & numbered, and includes a square-format copy of the score
unique piece #1

(2012)

5 minutes 20 seconds ~

4 flutes (1+piccolo), 4 keyboard instruments, 4 electric guitars, electronics
one single-sided 12" vinyl, signed
[sold]
unique piece #2

(2012)

4 minutes 45 seconds ~

keyboard instruments, percussion, 6 electric guitars
one single-sided 7" vinyl, signed
unique piece #3

4 flutes, 4 clarinets, 4 horns, electronics
one single-sided 7" vinyl single, signed & numbered
unique piece #4

flutes, clarinets, horns, pianos, percussion
one single-sided 7" vinyl single, signed & numbered
unique piece #5

flutes, pianos/percussion
one single-sided 7" vinyl single, signed & numbered
unique piece #6

horns, guitars, violins, cellos
one single-sided 7" vinyl single, signed & numbered
unique piece #7

flutes, horns, pianos/percussion, violins
one single-sided 7" vinyl single, signed & numbered
unique piece #8

flutes, horns, pianos/percussion, cellos
one single-sided 7" vinyl single, signed & numbered
unique piece #9

clarinets, violins
one single-sided 7" vinyl single, signed & numbered
unique piece #10

flutes, guitars, cellos
one single-sided 7" vinyl single, signed & numbered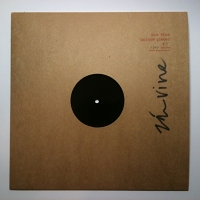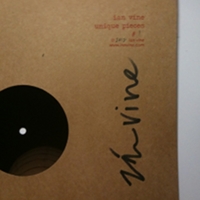 ©2012 www.ianvine.com