SIRI (1997)
for solo percussion and tape
SIRI is a piece concerned with an imaginary ritual, an invocation to a goddess. The work is in a single movement within which there are three defined sections; Prayer, Ritual and Summation.
SIRI was written for percussionist Peadar Townsend who gave the first performance on 30 May 1997 at the Royal Northern College of Music, Manchester, England. Adrian Spillett played Siri in the semi-finals of the BBC Young Musician of the Year 1998 which were televised on BBC2.
performance material for SIRI can be obtained from Southern Percussion, UK.
sound clip
set-up diagram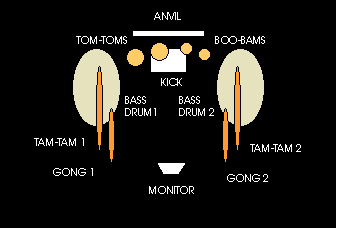 equipment list
2 large gongs
2 large tam-tams
anvil (or metal pipe)
2 boo-bams (or bongos)
2 tom-toms (or congas)
2 large bass drums
kick drum
~
cd player
p.a system with monitors