shadow grounds (1999)
shadow grounds was commissioned by The Huddersfield Contemporary Music Festival for ensemble recherche, and was first performed 28 November, in the Lawrence Batley Theatre, Huddersfield, during the 1999 HCMF.
The title alludes to the hidden cantus firmus, which is never expressed fully in the piece, only shadowed.
ensemble recherche recorded a compact disc of The Witten In Nomine Broken Consort Book, released in 2004 on Kairos.
instrumentation:
flute, oboe, clarinet, percussion (vibes, triangle), piano, violin, viola, cello
duration: 3 minutes ~
ensemble recherche programme note
Fast alle bedeutenden englischen Komponisten von Taverner bis Purcell schrieben in nomine kompositionen. Es handelt sich dabei um die erste reine instrumentalmusik. Zugrunde liegt der cantus firmus 'gloria tibi trinitas'. Auf Anregung des ensemble recherche entstand im April 1999 das in nomine Witten broken consort book: ein altes Buch wird neu gefüllt von Ferneyhough, K. Huber, Kröll, Hosokawa, Schurig, Pintscher, Gervasoni, Schöllhorn, Platz, Pauset, Kurtág, Schwehr, MacRae, Olbirsch, Peters, Claren, Zimmermann, Zender, Harrison, Riehm, Shaked, Shuya, Birkenkötter, André, Walter, Digby, Pomàrico, Mahnkopf, Haas, G. Neuwirth, Steinke, Mundry, Vine, Sciarrino, Rihm, Pesson
Nearly every British composer from Taverner to Purcell wrote in nomine compositions. They are, in fact, early instrumental music based on the cantus firmus 'gloria tibi trinitas'. In April 1999, the Witten in nomine broken consort book was initiated by ensemble recherche: an old book with new contents by Ferneyhough, K. Huber, Kröll, Hosokawa, Schurig, Pintscher, Gervasoni, Schöllhorn, Platz, Pauset, Kurtág, Schwehr, MacRae, Olbirsch, Peters, Claren, Zimmermann, Zender, Harrison, Riehm, Shaked, Shuya, Birkenkötter, André, Walter, Digby, Pomàrico, Mahnkopf, Haas, G. Neuwirth, Steinke, Mundry, Vine, Sciarrino, Rihm, Pesson

The Witten In Nomine Broken Consort Book
Ensemble Recherche
double CD featuring over 40 works by contemporary composers



sound clip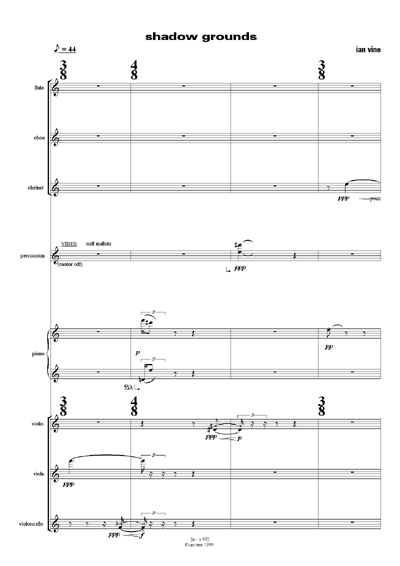 shadow grounds, first page of score