broken colour (2003)
As the title suggests, this is a piece primarily concerned with colour. Like much of my recent work, broken colour is constructed in the same way as a painting. Material is added in layers, with a wash that underlies the whole work. In this case, one colour is constantly re-examined, as if from different angles or in different light.
broken colour was commissioned by Ensemble Q with funds provided by Music On The Edge, and first performed 28th October 2003 at the Turner Sims Concert Hall, Southampton, UK.
instrumentation:
alto flute, oboe (+cor anglais), clarinet, horn, percussion (1 player) - 4 crash cymbals, tam-tam, glockenspiel, marimba
duration: 17 minutes ~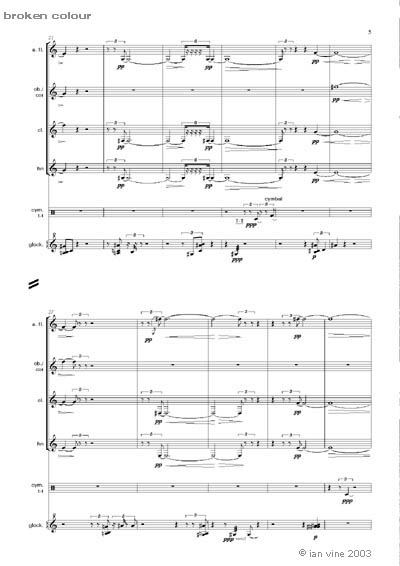 [page 5, bars 21-31]
© ian vine 2003